Behavior as stimulus and response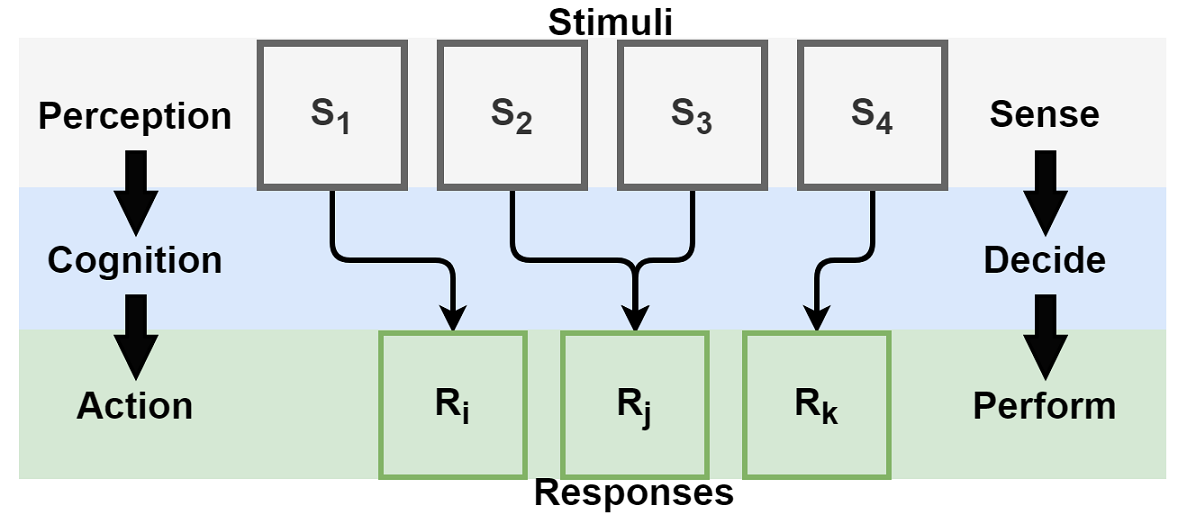 A simple way of describing agent behavior is a mapping from stimulus to response. Consider the following human and machine behaviors:
| Stimulus | | Response |
| --- | --- | --- |
| Button pressed | → | Bell rings |
| Browser icon clicked | → | Launch browser |
| Heard "Congratulations" | → | Says "Thanks" |
| Heard "Thanks" | → | Says "You're welcome" |
| Detected speech "Hey Google" | → | Lights up |
| Identified intent:stop | → | Pause music player |
Three types of intelligent processes, perception, cognition and action, are chained together in this concept of behavior. Perception continuously senses stimuli from the environment. Cognition makes decisions using the perceived stimuli. Based on the decisions, a response may be produced. Action intelligence performs the response. Other agents, that could be users and systems, perceive these responses as new stimuli, which in turn, respond by invoking their own chains of intelligent processes. This repetition creates intelligent interaction.
Let's apply this model of behavior to conversations. Perception is not only hearing and vision; but also sensing of time, prior state and context (e.g., user, application, network, location). In mainstream conversational AI systems, automatic speech recognition (ASR) and natural language understanding (NLU) are perceptual intelligence components. Natural language generation (NLG) and text-to-speech (TTS) perform action. Other perceptual components, such as addressee resolution, gaze tracking, emotion detection or gesture recognition, may be used in some systems. Similarly, other examples of actions include on-screen display, actuating a robot and calling an API.
Stimulus is processed into meaning bearing representations (e.g., words, parse trees, intents, slots, queries, one-hot vectors, embeddings). Cognition modules use the perceived stimulus to make decisions about if and how to respond. Cognitive conversational intelligence, which will be the focus of the rest of this article, can take the form of a dialog manager, a skill router, an orchestrator, a policy or a parameterized model. In order to make appropriate decisions, conversational intelligence needs to be customized to the application domain either manually or using data. Business logic and design specifications may be implemented in this module, and it is often necessary to have a high degree of control over it. While we will discuss nine prevalent ways of implementing conversational intelligence in this article, this list is not intended to be exhaustive. Instead, this article should serve as a reference for approaches to consider, their appropriate use and limitations.